Leek and Potato Soup Recipe
An idealist is one who, on noticing that roses smell better than a cabbage, concludes that it will also make better soup. - H. L. Mencken, writer
Meet your new low-calorie high-nutrition friend, the leek. You have seen them in the store and may have bypassed them in favor of a more familiar veggie; but, no more! Grab yourself a bundle of good for you leeks, read up on how to use them, and start your New Year off right with a steaming bowl of home-made soup.
To tweak this tasty template recipe, I reduced the fat and salt. Cream, milk, and salty stock are not necessary as the veggies create a light and lovely stock simply by simmering in water. Stir in a tad of fresh unsalted butter right before serving. This keeps the velvety goodness on top of the broth and makes the soup more satisfying. Added salt will be kept to one teaspoon and has been removed from the butter and stock.
If you are new to the lower sodium game, you might need to add an extra dash of salt. Go ahead and then log it with this. Enjoy.
Largely Leeky Potato Soup
Nutrition facts for eight servings
Ingredients:
3 cups leeks
2 cups russet potatoes
4 cups water
1 t salt
1/4 t ground white pepper
2 T butter, unsalted
1/4 cup chopped chives for garnish
Directions: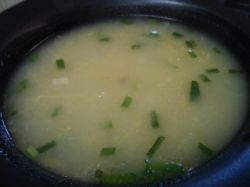 Thinly slice and clean the white and light green part of the leeks and place in a large pot.
Peel and chop the potatoes. Add to the pot.
Add enough water to just barely cover the veggies (approximately four cups).
Add the salt and white pepper.
Heat over high to just starting to boil. Reduce the heat to a low simmer, cover, and cook for one hour. Stir every now and then.
Use an immersion blender to create a beautifully velvety smooth soup.
Return to heat and stir in the butter until it melts. Taste and adjust the salt if necessary and serve immediately with a garnish of chives.
Option: For more buttery flavor, set out the butter at the table and let each guest stir in a sliver of butter to their bowls.
For more great recipes like this, visit Mindful Palate.
Your thoughts…
What other changes would you make to this classic soup to bring it in line with the way you eat today? If you would like help with nutrition facts or in a recipe search, leave your question at Recipe by Request. If you would like your wonderful recipe included at CC Palate, please send it to me via pm. This article may be reprinted (including bio) with prior permission from the author.

Join Calorie Count
- It's Easy and Free!